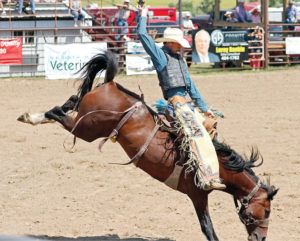 605 Sports Staff Report:
While the rest of the South Dakota high-school rodeo family was celebrating team South Dakota's 9th-place finish at National High School Finals Rodeo, Wall Area's Malcolm Heathershaw was stuck on the sidelines. in 2020 Heathshaw finished 4th in the Saddle Bronc at those National Finals.
Shortly after that competition, Heathershaw's rodeo career hit a fork in the road.
"I was just kind of getting back from Nationals and was competing at an amateur rodeo in Martin," he said. "I got on one of Wilson's horses and it was a little bit bigger than I was used to."
That big horse sling-shotted Mr. Heathershaw into the air where he reached down with his left to brace for the fall.
CRUNCH!
"I stuck my arm out, it bent back and I ended up breaking the arm in two places," he said.
A quick trip to the emergency room in Martin was followed by a heavy dose of pain killers before the Heathershaw's jetted to Rapid City.
"I think it was like 2 a.m when we got there and after surgery it turned into a 3-4 day ordeal," he said. "It took me a couple days to get back and then I had to re-learn home life with no left hand."
After three months of sitting on the sideline, waiting for the arm to heal, Heathershaw rode again.
"I got on my first horse and won while I was practicing for the 20X," he said.
That good feeling didn't last long.
"I got bucked off a colt in a practice arena," he said. "I broke the same arm in 3-4 new spots and tore my bicep."
A trip to a Sports Medicine Doctor with a referral to a surgeon Dr. Dykstra followed. After having bars put in the arm Dykstra came in after surgery and told the Heathershaw's Malcolm's arm was 'Pretty Messed up'
Through a long stretch of Physical Therapy Heathshaw wasn't doing so well with his emotions.
"Emotionally this was the hardest thing I've ever done in my life" he said. "The hardest part was me having to sit and watching others progress."
Heathershaw says it was fun to see team South Dakota do so well at Nationals but that it was dissapointing to be there and not be able to compete.
Ahhh, competition, the life-blood for any athlete. Heathshaw was so desperate to do anything this spring that he went out for track for the first time since Middle School.
"I didn't have anything to do so it was exciting to go out and compete," he said.
He now owns a state track medal after running on a Karol Patterson coached relay.
"I was so excited to be on a team with Tack, Norm and Rylan," he said. "To have this be my first-year back in track it was fun to go to Howard Wood and then place at state."
Heathshaw may or may not go out for track next spring, BUT, he's looking forward to the day he hops back on a Bronc.
"My surgeon told me i could never ride again and my mom kind of agrees and I expect that, she's my mom," he said.
The mental tug of war between wanting to do something you love and something that could be a life changing moment is something Heathshaw says is a mind game."
"It's hard to push yourself when everyone is kinda telling me I can't," he said. "This has been a life-long dream of mine and yes it's going to be a challenge and yes it's going to be scary."
Not much for the weightroom prior to these injuries, Heathershaw knows he has some work to do IF he wants to get back in the SADDLE.
"I have another year of high school and the most important thing is I need to stay healthy," he said. "I've got to put some muscle on that arm so if this ever happens again I'll be ready."
Heathershaw isn't sure when he'll get back on the Broncs, only that he WILL.
"I want to win a National Championship my senior year, go to college and then someday compete in Pro Rodeo."