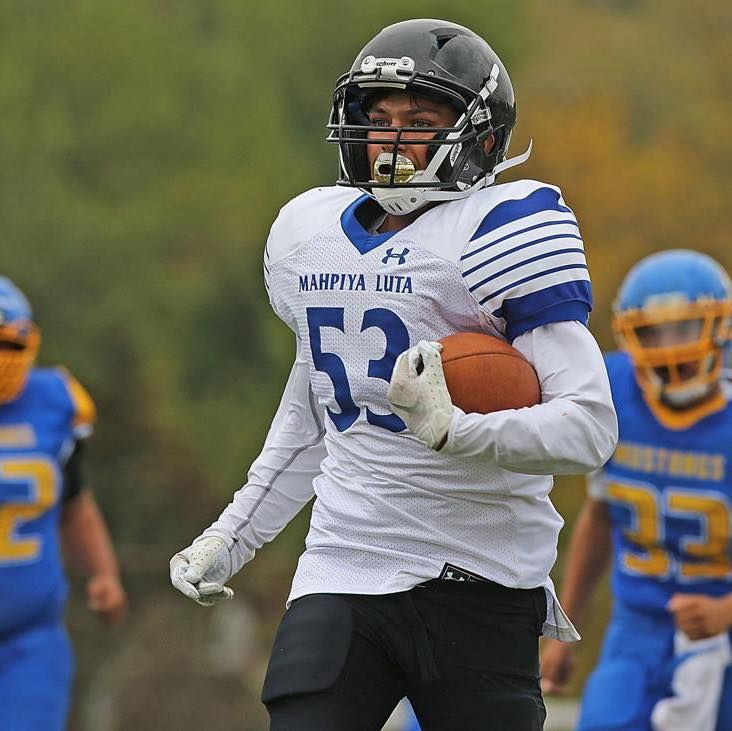 Samuel O'Rourke is a 6-0, 190 lb. sledgehammer for the Crusaders.
| | | |
| --- | --- | --- |
| | | |
By Rich Winter
As Samuel O'Rourke and his Red Cloud teammates GRIND through 100 degree practices they do so with the memory that they were oh-so-close to making the DOME in 2019. Red Cloud started practice Monday and the Crusaders are getting ready for their opener vs. Standing Rock in Ft. Yates.
Of note here, Red Cloud did not play football last year so the Crusaders are itching to get on the field.
"I'm counting the days, I'm hpyed right now," O'Rourke said. "It's almost 2022 and we haven't played since 2019."
The last 1.5 years haven't exactly been easy for kids across South Dakota's Reservations. Reservation lock-down, can't go anywhere, no sports, on-line school and a complete disruption of normalcy.
"Helplessness is how I felt," O'Rourke said. "It was depressing sitting inside and not being able to do the things I love."
And then there was this thing callled on-line school.
"I have to be in a classroom to learn," he said. "On-line school was confusing, it was hard and it was hard to have that responsibility to go to school every day and be stuck at home."
We asked O'Rouke what helplessness felt like.
"It is a feeling that won't go away no matter what you do," he said. "That feeling stays there and drags you down to the lowest point so you don't even want to get out of bed."
The son of Kelli Waters and Samuel O'Rourke Sr. is now a junior who stands 6' tall checking in at a sturdy 190 lbs. An All-Conference LB two years ago, O'Rourke says he's embracing more of a leadership roll this season.
"i have to be more vocal and enthusiastic and make sure the underclassmen can come to me if they have questions," he said.
Having just missed the All-Nations finals in 2019 O'Rourke says it is to early to 'talk' but he notes the Red Clouds have a strong feeling about their potential and feel like this could be a good year.
With the All-Nations Conferene expanding to 18-teams this year O'Rourke is excited for the conference itself.
"Having this conference gives kids a real chance to play in the Dome," he said. "More opportunities for Native American athletes to get recognized and seen by college recruiters."