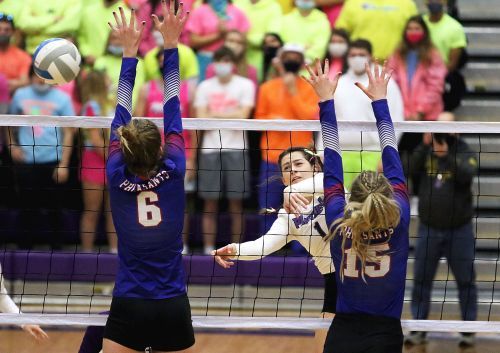 By Rodney Haas
WATERTOWN — Dakota Valley made quick work of Parker Friday night in the semifinal round of the state Class A volleyball tournament in Watertown.
The sixth seed Panthers cruised to victory in three sets by the score of 25-14, 25-15 and 25-18 and will take on top seed Sioux Falls Christian.
Sophia Atchison led the Panthers (15-5) with 12 kills and 14 digs while Rachel Rosenquist added 13 digs and 10 kills.
Breana Jensen led Parker with 13 digs, as the Pheasants will play Hamlin for third place.
Sioux Falls Christian will be looking for its ninth championship in 11 years and will face the familiar foe in Dakota Valley. The Chargers have met the Panthers in the championship match three times in the last 11 years including last year title match.
The Chargers defeated fifth seed Hamlin 3-0 by the scores of 25-10, 25-13 and 25-19.
Abby Glanzer led Sioux Falls Christian with 12 digs and 14 kills while Brooklyn Pater added 12 kills.
Class B
Warner and Northwestern will meet in the Class B championship match Saturday night in Huron. The top seed Wildcats defeated Colman-Egan 3-0 by the scores of 25-18, 25-19 and 25-20. No. 2 seed Warner advanced to the title match with a 3-1 win over Chester Area by the scores of 23-25, 25-23, 25-18 and 25-19.
Class AA
Top seed Sioux Falls O'Gorman punched its ticket to the Class AA championship match Saturday night in Brookings.
The Knights defeated No. 4 seed Sioux Falls Washington 3-0 by the scores of 25-21, 25-22 and 25-22. O'Gorman will take on Huron. The Tigers defeated Sioux Falls Roosevelt 25-14, 25-20 and 26-24.