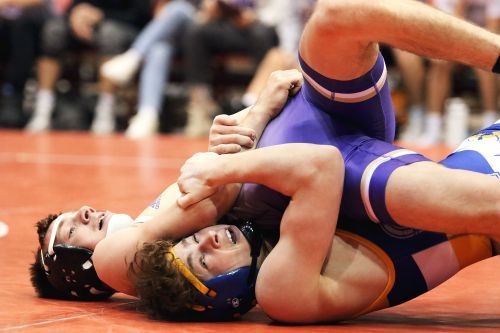 Canton's Andy Meyer wrestles Winner Area's Jack Peters during Friday's Class B dual championships in Rapid City. Meyer defeated Peters with a 16-9 decision.
Photo by Rodney Haas
| | | |
| --- | --- | --- |
| | | |
By Rodney Haas
RAPID CITY — As the top seed in the 132-pound weight class, Canton's Andy Meyer was looking to make it back-to-back state tiles.
But those dreams took a heartbreaking turn when the defending 113-pound champion suffered a broken ankle in practice, three days before the start of the state meet.
"It was one day in practice. I couldn't walk on it after," Meyer said. "Not a day later. I wasn't able to stand on it. I was doing everything I could to recover. I went to see three doctors. We were just doing everything to try and get me to wrestle."
With a wrap on his ankle, Meyer put his 33-2 record entering the Class B state wrestling tournament on the line and was able to get by his first round match with Tri Valley's Landon Reiser — pinning him in 53 seconds. However, Meyer's luck ran out in the quarterfinals when Faulkton Area's Parker Geditz defeated him with a 3-1 decision.
"I could tell there was a huge difference," Meyer said. "The kid that beat in me in the quarters, I pinned him earlier in the year. After I lost in the quarterfinals, I just wanted to place."
Meyer would rebound in the consolation bracket by pinning Lyman's Shilo Mowry in 1:16 and then defeated Winner Area's Jack Peters with a 16-9 decision during Friday night's dual championship match.
However, by then, the damage had already been done. Meyer's ankle had finally gave out, and he had to withdraw his final two matches to place eighth.
"There's a huge difference when you're wrestling on one foot," Meyer said.
Although Meyer didn't finish the tournament the way he wanted, nevertheless his performance helped lead the C-Hawks to their fourth straight team championship and sixth title in 10 years with a 216.5-188.5 win over Winner Area.
"He could've just packed it up and said 'I can't do it,"' said Canton co-head coach Jeremy Ask, who added Meyer was wearing a boot when Canton arrived in Rapid City. "The toughness that he's shown over the last few days is unreal. I hope our younger guys in the program are watching Andy and are going 'I better not be whining about little bumps and bruises. Because if Andy Myers can go out and compete on one leg, I can go and wrestle."
Ask added that Meyer is a quite leader compared to some of the more vocal out spoken leaders in Braden Sehr (138), Seth Peterson (152), Jaden Dominisse (160) and Zach Richardson (285)
"We talk and talk about how every guy in our (wrestling) room is important," Ask said. "(Meyer) was still alive so he was still scoring us points which is amazing — all on one leg."
Crazy Horse athlete Trey Lamont knocks down a 3-pointer to send Friday's game with Marty to OT
Jackson Newman lifts Platte-Geddes over Gregory in a thriller
Tash Lunday, first quarter buzzer beater as Flier big man scares triple double
DeSmet Bulldogs STEAL a victory with a pair of final second THREES!