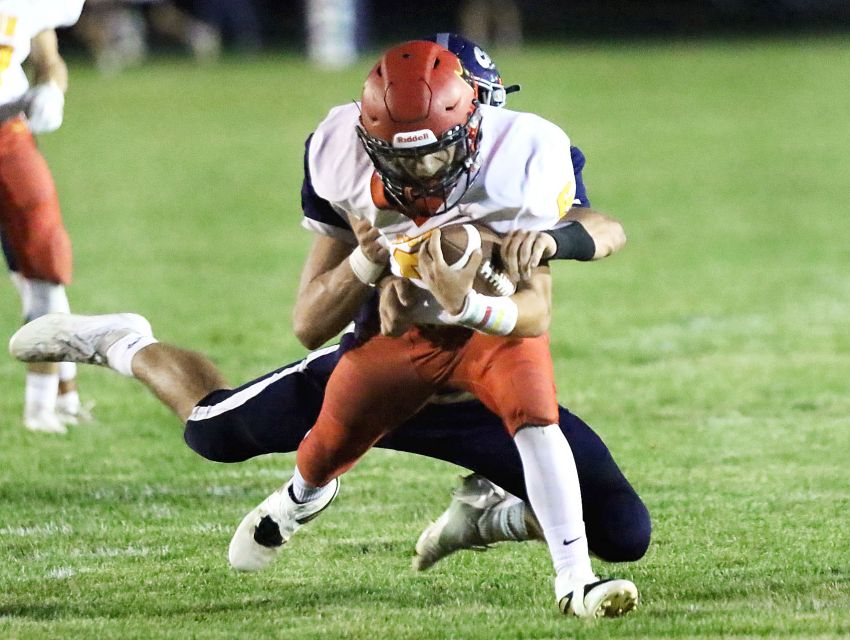 | | | |
| --- | --- | --- |
| | | |
By 605 Sports
sports.ticket@sportsticket.tv
Avon 58, Burke 36
BURKE -- A huge night of offense for Avon which racked up 630 yards while improving to 4-0 on the season.
Brady Bierema carried the ball 17 times for 213 yards, racking up three touchdowns in the process. Jaden Stahl finished with 148 yards and a score. Riley Rucktaeschel completed six passes for 192 yards and two touchdowns. Lincoln Thury finished with 118 yards receiving and two touchdowns. Cody Soukup had 93 yards and a receiving touchdown for the Pirates.
After a slow start Burke got their offense moving with Taron Serr netting 118 yards rushing while scoring two touchdowns. Ben Witt finished with 122 yards passing and two touchdown passes, one to Bryce Frank and the other to Serr.
Winner 61, Jim River 12
MENNO -- Class 11B No. 1 Winner rolled up 436 rushing yards on its way to a win over Jim River on Friday afternoon.
The Warriors had two 100-yard rushers with Riley Orel scampering for 129 yards and two scores. Aiden Barfuss had four carries for 100 yards and a touchdown. Kaden Keiser was a stat stuffer with 38 yards rushing and a touchdown, two receptions for 68 yards and led the team with 4.5 tackles with 2.5 of them recorded as tackles for loss. Joey Cole added two rushing touchdowns and Karson Keiser added a rushing score. Slade Cournoyer and Jackson Vesely added interceptions on defense, with Vesely returning his for a touchdown.
Dawson Bietz finished with 133 yards of passing and a touchdown. Austin Pillsbury caught four passes for 68 yards, while Logan Sayler hauled in a touchdown reception. The Trappers finished with 159 total yards.
Alcester-Hudson 70, Centerville 54
ALCESTER -- An offensive explosion Friday night as these two teams combined for 124 points and 1,175 yards of total offense.
Jovey Christensen had a career night with 547 yards rushing and nine touchdowns. Caden Winquist added 32 yards rushing and a rushing touchdown. Mateo Kleinhans completed just one pass for 30 yards to William Hallaway. Christensen and Evan Brown both had interceptions for the Cubs.
Centerville quarterback Cole Edberg completed 31 of his 50 passes for 499 yards and seven touchdowns. Austin Bohlman finished with 148 yards receiving and four touchdowns. Covin Wattier caught two touchdown passes with Malachi Brouwer catching another.
Canistota-Freeman 56, Garretson 50 (OT)
CANISTOTA -- Garretson jumped out to a 21-0 lead before Canistota-Freeman responded with 20 and 24 points in the second and third quarters.
Tage Ortman had a big night for the Hawks with 254 yards passing and three touchdowns. Noah Kleinsasser finished with 149 yards rushing and two touchdowns. Ortman had just 31 rushing yards but added two touchdowns for a five touchdown night. Isiah Robertson finished with 131 receiving yards and a score. Cayden Scott and Will Ortman each had touchdown receptions for the Hawks.
Garretson quarterback Dylan Kindt racked up 399 yards and finished with five touchdown passes. Kindt added two rushing touchdowns and led Garretson with 63 yards on the ground. Jayse Miller and Cooper Long finished with 156 and 139 receiving yards as both players caught two touchdown passes.
Platte Geddes 52, Colman-Egan 0
PLATTE -- The Black Panthers controlled the clock and the line of scrimmage on their way to a shutout of Colman-Egan.
Platte churned out 200 yards of rushing with Chase Varilek leading the team with 43 yards. Jackson Neuman, Max Miller, Parker Bailey, Grayson Hanson, Joey Foxley and Dawson Hoffman each had rushing touchdowns. Hoffman finished with 99 yards passing and a touchdown pass to Trevor Rolland who caught two passes for 92 yards.
Dawson Tolley led Colman-Egan with 60 yards rushing as the Hawks managed 52 yards of total offense.
Corsica-Stickney 46, Colome 6
COLOME -- Corsica-Stickney ground out 353 yards of offense, including 211 yards rushing and 142 yards passing.
Caden Vandrongelen had a big night on the ground with 95 yards and three rushing touchdowns. Cole Feenstra added 59 yards rushing and a touchdown. Quarterback Shad Bosma completed four passes for 129 yards and a touchdown pass to Feenstra. Vandrongelen had a solid night on defense racking up 12 solo tackles and intercepting a Colome pass.
Colome's Eli Vobr passed for 46 yards and was the Cowboys leading rusher with 78 yards and had the only Colome score of the night. Kash Heath managed 48 yards rushing and grabbed an interception on defense.
Wall 42, Lyman 6
WALL -- The Wall Eagles took to the air Friday night with four touchdown passes as Lex Heathershaw's crew remained undefeated.
Sophomore quarterback Burk Blasius finished with 178 yards and four scores through the air. Stran Williams had 92 yards receiving and a touchdown reception. Cedar Amiotte had two receiving touchdowns. Wall rushed for 141 yards with Cedar Amiotte grinding out 79 yards.
Colton Collins finished with 135 yards rushing with Teagan Gourneau added 44 yards and a score for the Raiders. Gourneau completed eight passes for 122 yards with his favorite target being Sam McClanahan who caught three passes for 75 yards.
Faulkton 28, Hitchcock-Tulare 24
FAULKTON -- Faulkton's balanced attack, 200 yards rushing and 198 yards passing as the Trojans improved to 4-1.
Quarterback Parker Geditz finished the night completing 15 passes for 198 yards and two touchdowns. Simon Bowar was a load on the ground rushing for 110 yards. Garrett Cramer had 65 rushing yards and a touchdown while Geditz added 47 yards and a rushing touchdown. Rylan Beckler and Roman Dimaria each had receiving touchdowns.
Erik Salmen had a big night on the ground for Hitchcock-Tulare with 130 yards and a touchdown. Kyle Hamilton rushed for 63 yards and a score. TJ Salmen caught two passes for 94 yards and a touchdown.
North Central 28, Northwestern 20
EUREKA -- North Central's Tanner Frickson rushed for 169 yards and two touchdowns as North Central edged Northwestern on Friday.
North Central finished with 244 rushing yards on 45 carries, with Ashton Hartling scoring a rushing touchdown and a kickoff return for a touchdown. He added an interception on defense and had five tackles. Landon Wolf had 11 tackles.
Northwestern's Fatafehi Faonelua and James Bergalowski each had a rushing touchdown. Faonelua had two interceptions on defense, including one returned for a score. The Wildcats had 131 total yards.
Wolsey-Wessington 50, Britton-Hecla 0
BRITTON -- Wolsey-Wessington erupted for 468 total yards and forced three turnovers in a shutout win over Britton-Hecla.
Marrian Gohn finished with 223 rushing yards and four rushing scores in the win. Eric Klanchnik had a rushing score. Blaze Herdman threw for 115 yards and two touchdowns. Joey Hoverson and Kaden Krutzfeldt each hauled in touchdown receptions. Hoverson had an interception on defense and Keegan Haider had 5.5 tackles.
Britton-Hecla finished with 105 total yards. Aidan Frederickson had 58 passing yards and 43 rushing yards.
De Smet 62, Arlington/Lake Preston 0
LAKE PRESTON -- De Smet stayed undefeated with a win over Arlington/Lake Preston on Friday.
The Bulldogs finished with 136 rushing yards on 18 attempts, with Kalen Garry scoring two rushing scores. Kadyn Fast also had a rushing touchdown. Colt Wilkinson threw a touchdown reception to Rett Osthus. Garry added a punt return for a score. Dylan Zell and Gannon Gilligan added rushing touchdowns. Defensively, Garry had seven tackles and Blake Van Regenmorter had five tackles.
Tea Area 47, Mitchell 14
MITCHELL -- The Tea Titans push their all-time win streak to 15 games in a row with the victory over the Kernels. The Titans trailed 14-7 at the half, but unleashed 40 unanswered points in the second half to extend the streak. Tea put up 423 yards of offense, while only allowing the Kernels 148 yards.
Chase Van Tol was the workhorse for the Titans on the ground with 91 yards on 15 carries. Nathan Babb and Jackson Smythe contributed 56 and 53 yards rushing respectively. Cael Lundin completed six of 11 passes for another 104 yards and two touchdown passes. Klayton Sattler hauled in four catches for 84 yards and two touchdowns, including a diving sideline catch in the endzone.
Josh Grosdidier carried 16 times for 85 yards and a touchdown for the Kernels. Treyson Schulz completed seven of his 13 attempts for 70 yards and a score.
Blake Thompson and Isaac Johnson each had seven tackles for the Titans, and Joe Van Overschelde had 12 tackles for the Kernels.


Hamlin 32, Leola-Frederick 0
HAMLIN -- Explosive plays were the norm for Hamlin who had the ball for just 13 minutes in Friday's shutout of Leola-Frederick
Xander Sheehan did damage with his arm and his legs Friday. The quarterback completed 12 passes for 199 yards and two scores. Sheehan led the Chargers with 53 yards and added two touchdowns on the ground. Luke Fraser also had a rushing touchdown. Six Charger receivers caught passes with Fraser grabbing four passes for 67 yards and a touchdown. Tyson Stevenson had the other touchdown reception for Hamlin.
Mason Hinz finished with 93 rushing yards with teammate Vincent Petrich adding 43 yards on the ground. Leola-Frederick had the ball for just over 35 minutes and finished the night with 167 yards of total offense.
Madison 9, Milbank 0
MADISON -- Class 11A No. 2 Madison ran its record to 4-0 on the season with the 9-0 defensive victory over Milbank.
Marshall Voeltz led Madison with 124 yards on 16 carries offensively and racked up 10 tackles defensively. Kaden Krause completed seven of his 14 passes for 48 yards, and collected an interception defensively.
Milbank was led on the ground by Bruce Galde with 62 yards, and Nate Rick completing 13 of his 29 passes for 163 yards. Mickale Dohrer collected six passes for 62 yards.
The victory by Madison sets up a showdown next week with No. 1 Canton C-Hawks (4-0).
Redfield 26, Webster Area 9
WEBSTER -- Redfield pulled away in the fourth quarter with 13 unanswered points for the victory.
The Pheasants captured a NEC victory over the Bearcats behind a strong performance from Easton Miller. Miller connected on a pair of touchdown passes and ran one in for the Pheasants. Keaton Rohlfs caught a 29-yard touchdown, Paul Juarez hauled in a 12-yard touchdown catch, and Miller ran a 3 yard carry for a touchdown. Corbin Schwartz contributed an 8-yd touchdown run.
The Bearcats closed within 13 to 9 at halftime with a Pereboom 10-yard toss to Jaydon Keller.
Florence/Henry 47, Great Plains Lutheran 0
FLORENCE -- The Falcons rolled to 47 points in the first half and cruised to victory and their fifth win on the season. Florence/Henry collected 273 yards offensively, while limiting the Panthers to 79 yards of offense.
Austin Hanson and Frank Hanson led Florence/Henry with 75 and 42 yards on the ground respectively. Tegan Sumner completed five of seven passes for another 118 yards through the air. Mehki Keller caught three for 46 yards and returned a punt 35 yards for a touchdown.
Groton 23, Mobridge-Pollock 14
GROTON -- Groton rallied from a 14-7 deficit scoring the games final 16 points, improving to 4-1 for the season.
Groton accumulated 220 yards of total offense rushing for 130 yards on the night. Kaden Kurtz led Groton's rushing attack with 75 yards and two touchdowns. Andrew Marzahn had a rushing touchdown to open the scoring for Groton. Favian Sanchez hauled in three passes for 65 yards.
For Mobridge-Pollock, Holden Eisemann finished with 61 yards passing while rushing for 13 yards and two scores. Cole Wellner led the Tigers rushing attack with 116 yards
Deuel 38, Dakota Hills 8
CLEAR LAKE -- The Cardinals collected their third win of the season with a victory over the Grizzlies. Deuel ran for a punishing 234 yards on the ground and collected another 68 yards via the pass.
Carter Nothem ran for 60 yards, and Trey Maaland threw for 68 yards and ran for another 41 offensively. Ty Lovre had 49 yards on a carry for a touchdown.
Khayri Bergman went over the century mark with 102 yards on 12 carries for the Grizzlies, including a 76-yard touchdown run.
Sioux Valley 42, MCM 32
VOLGA -- The Cossacks iced the game with a fourth quarter touchdown by Parker Puetz to collect a high scoring victory. Sioux Valley led 20-18 at the half, and each team traded a pair of touchdowns in the third quarter before the clincher in the fourth quarter. The Cossacks racked up 417 yards of offense, and Cougars countered with 363 yards themselves.
Parker Puetz carried Sioux Valley with 231 yards through the air and another 139 yards on 27 carries. Damian Danzeisen caught six passes for 104 yards and tacked on 21 rushing yards.
The Cougars Trevor Hansen ground out 92 yards on the ground. Gavin Gordon slung 20 completions on 30 attempts for 282 yards passing. Will Cleveland caught four passes for 145 yards and three touchdown catches, and he returned the second half kick-off 82 yards for another score.
Herreid-Selby Area 60, Kadoka Area 6
SELBY -- Tray Hettick completed 6 of 8 passes for 220 yards and four touchdowns in Herreid-Selby Area's win over Kadoka Area on Friday.
Brenden Begeman added five carries for 127 yards and two rushing touchdowns. Trey Sayler had 62 rushing yards and one touchdown. Trevor Gill hauled in two touchdown receptions, while Sayler and Begeman each had a touchdown reception.
Defensively, Sayler had 14 tackles and an interception return for a touchdown. Chance Gregg had 14 tackles, while Trevor Sayler and Collin Tisdall had 12 tackles apiece. Begeman had two interceptions.
Elkton-Lake Benton 56, Deubrook Area 6
ELKTON -- Ryan Krog completed 15 of 20 passes for 350 passing yards and five touchdowns in a win over Deubrook Area on Friday.
Logan Kuehl hauled in eight receptions for 129 yards and four touchdowns. Riley Hunter added 118 receiving yards on two catches. Aiden Erickson had 70 receiving yards and 28 rushing yards. Tanner Stein had a rushing touchdown. Riddick Westley had a 52-yard punt return for a touchdown. Defensively, Martin Davis had three tackles.
For Deubrook Area, Jace Vomacka threw for 21 yards and Treven Grimsrud had 52 receiving yards.
Ipswich 34, Warner 6
IPSWICH -- Ian Beyers accounted for three total touchdowns as Ipswich topped Warner in high school action on Friday.
Tyler Hettich and Carson Gohl each had rushing touchdowns for the Tigers, who had 101 rushing yards on 44 carries. Hettich finished with 55 rushing yards, while Beyers threw for 140 yards. Carter Geditz had 61 receiving yards. Beyers and Ty Kadlec had nine tackles apiece.
For Warner, Hunter Cramer threw a 10-yard touchdown reception to Peyton Jung for its lone score. Cramer finished with 106 passing yards.