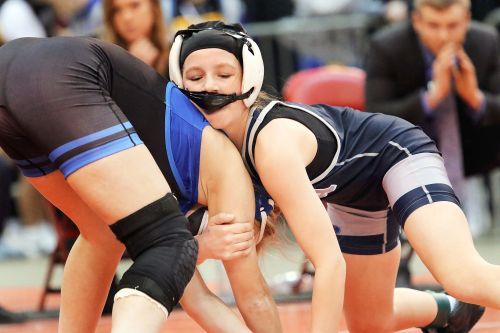 Bon Homme/Scotland/Avon's Brittany Rieb tires to get a grip on Mount Vernon/Plankinton/Corsica-Stickney's Alexis Hauge during the Class B girls 112 final Saturday in Rapid City. Rieb won the match with a 8-0 decision to become the first ever girls st
Photo by Rodney Haas
| | | |
| --- | --- | --- |
| | | |
By Rodney Haas
RAPID CITY — Brittany Rieb took her place in South Dakota sports history Saturday night during the Class B state wrestling tournament.
Rieb, a 112-pound seventh grader from Bon Homme/Avon/Scotland became the first ever female state wrestling champion after the South Dakota High School Activities Association sanctioned girls wrestling this year.
"It feels really good," Rieb said of making history.
Rieb defeated Mount Vernon/Plankinton/Corsica/Stickney's Alexis Hauge with an 8-0 decision in the 112 final. She advanced to the title match after a 13-1 major decision win over Akane Metcalfe and moved into the semifinals with a 12-3 major decision win over Lemmon/McIntosh's Quinn Butler.
Rieb was one of 88 girl wrestlers to compete in both the A and B tournaments this past weekend at the Rushmore Plaza Civic Center. Overall, there were 150 individuals that participated in girls wrestling in its first year as a sanctioned sport.
Rieb said there were two girls on her team this year and added in practice they would wrestle with the boys.
"I think practicing with the boys is 100 percent better. It makes us stronger in a lot of ways," she said. "Our coaches take us places where we can wrestle where there's girls divisions. Sometimes at the beginning of the seasons we will have duals and we have exhibitions and stuff."
Rieb said she got into the sport because her brothers were wrestlers. She added she used to participate in gymnastics, but she didn't really like it.
"Wrestling got me a lot stronger and I got to work harder for the things that I need to work on," Rieb said. "It's just such a great experience to have."
By winning her first state champion as a seventh grader, Rieb is also on track to do something that has only been done twice in Class B — become a six-time state champion. It's a tall task yes, but one that would only add to her legacy as an early pioneer in girls wrestling and set her place in the history of female athletes in South Dakota.
"I'm really proud that I got this experience and I'm really glade that I had the year I had and I'm able to wrestle varsity," Rieb said.
Crazy Horse athlete Trey Lamont knocks down a 3-pointer to send Friday's game with Marty to OT
Jackson Newman lifts Platte-Geddes over Gregory in a thriller
Tash Lunday, first quarter buzzer beater as Flier big man scares triple double
DeSmet Bulldogs STEAL a victory with a pair of final second THREES!