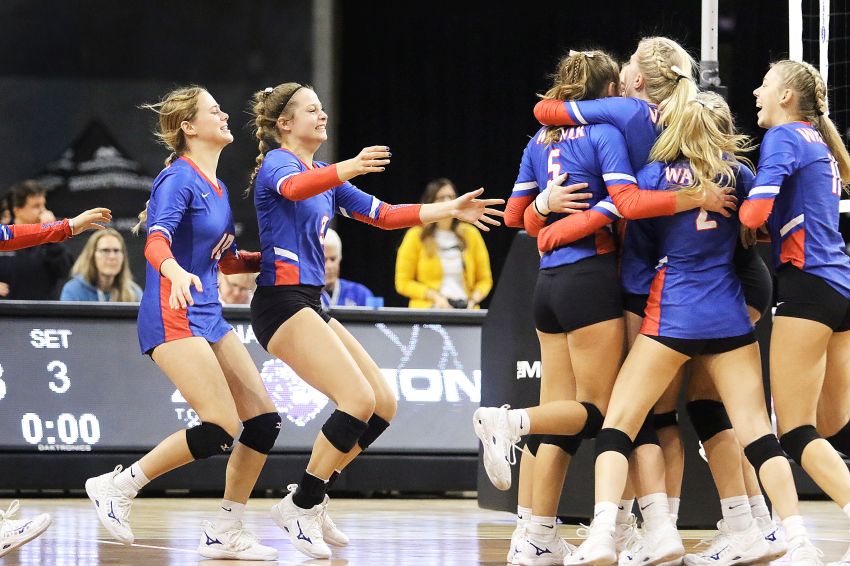 Members of the Warner volleyball team celebrate its three-set victory over Colman-Egan in the Class B championship match Saturday at the Summit Arena in Rapid City.
(Rodney Haas / 605 Sports)
| | | |
| --- | --- | --- |
| | | |
By Ryan Deal
605 Sports
RAPID CITY -- The blue machine is back on top.
Playing in its 13th Class B volleyball tournament, Warner swept Colman-Egan for its seventh state championship in program history. The Monarchs, who were last year's state runner-ups, last won the state championship in 2018. Saturday's set scores were 25-19, 25-20 and 25-8 to complete another championship season.
"I think we all just really had a lot of motivation to come back and win the state championship," Warner senior Peyton Fisher said. "We knew we could do it. This summer we worked a lot on our defense because our motto is defense wins games and obviously it wins us championships."
Did it ever on Saturday at the Summit Arena. The Monarchs (33-5) put together another dominant defensive performance, including the final set where the Hawks (27-8) failed to crack double digits. Warner pulled away in the first two sets and jumped ahead in the final set to secure the championship.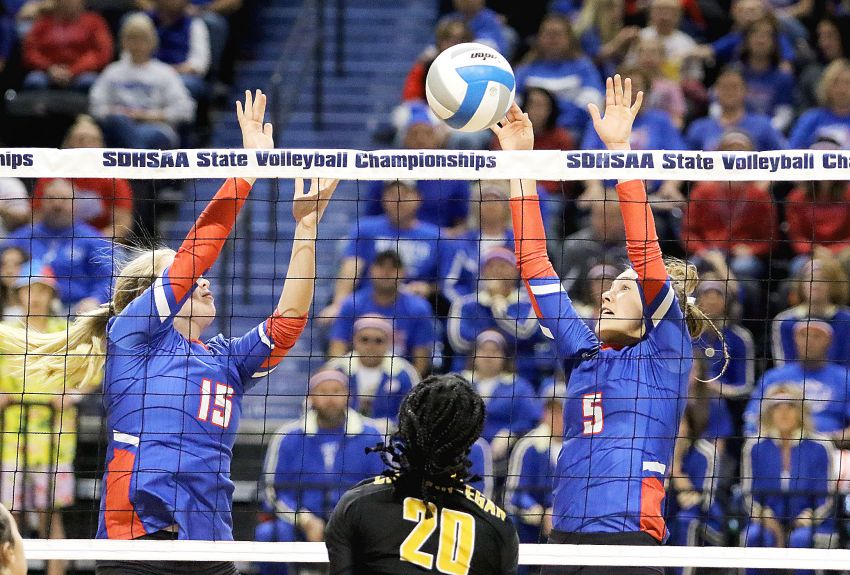 Warner's Kamryn Anderson (15) and Kyra Marcuson (5) block a shot from Colman-Egan's Daniela Lee during the Class B championship match Saturday at the Summit Arena in Rapid City. (Rodney Haas / 605 Sports)


"Our game plan was just to have our defense be on point," Warner freshman Kyleigh Schopp said, "and try to touch every ball we can get and just work as a team and as a unit and just to get this championship."
Warner's Jennifer Aman had 14 kills and Schopp added 10 kills. Kamryn Anderson posted eight kills, while Kyra Marcuson added seven kills and 12 digs. Ava Nilsson dished out 36 assists.
Warner racked up 47 kills to Colman-Egan's 24 kills.
"The girls just came with the goal to win it and boy they were on fire," Warner coach Kari Jung said. "Ava mixed it up so well and we had kills in all different spots and it was hard to stop them and they just wanted it that bad today."
The convincing victory not only capped another title season, but one of the most balanced Class B seasons in recent history. The Monarchs were among a host of teams to be ranked No. 1 during the season. They dropped three matches in the middle of the season, but rattled off 19 straight victories to end the season.
"It happens every year it seems like since I have been playing, coach makes that one midseason adjustment and next thing you know we are all clicking and it's working well for us," Fisher said. "It's coaching on their part and making us adapt to adversity and obviously it helped us out."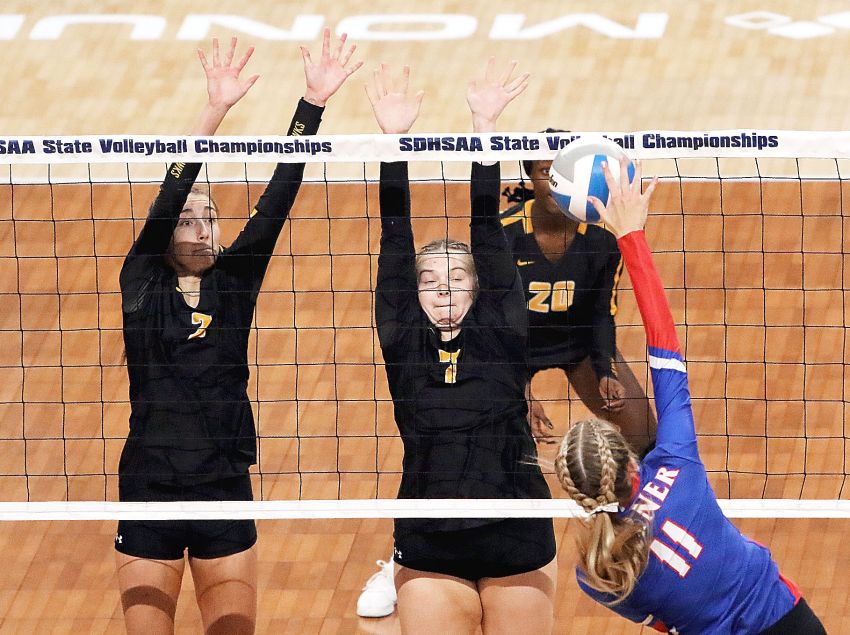 Colman-Egan's Hailey Larson (2) and Kadance Landis (7) try to block a shot from Warner's Kyleigh Schoop during the Class B championship match Saturday at the Summit Arena in Rapid City. (Rodney Haas / 605 Sports)


Colman-Egan was led by Hailey Larson's nine kills and seven digs. Mackenzie Hemmer had six kills and 10 digs. Ava Mousel added 12 assists and Daniela Lee recorded 11 digs for Colman-Egan, which was making its first-ever title match appearance.
The Monarchs were making their 11th championship appearance and they punctuated it with another title.
"They all mean something," Jung said. "It's just fun for them. I am happy for them."
Crazy Horse athlete Trey Lamont knocks down a 3-pointer to send Friday's game with Marty to OT
Jackson Newman lifts Platte-Geddes over Gregory in a thriller
Tash Lunday, first quarter buzzer beater as Flier big man scares triple double
DeSmet Bulldogs STEAL a victory with a pair of final second THREES!