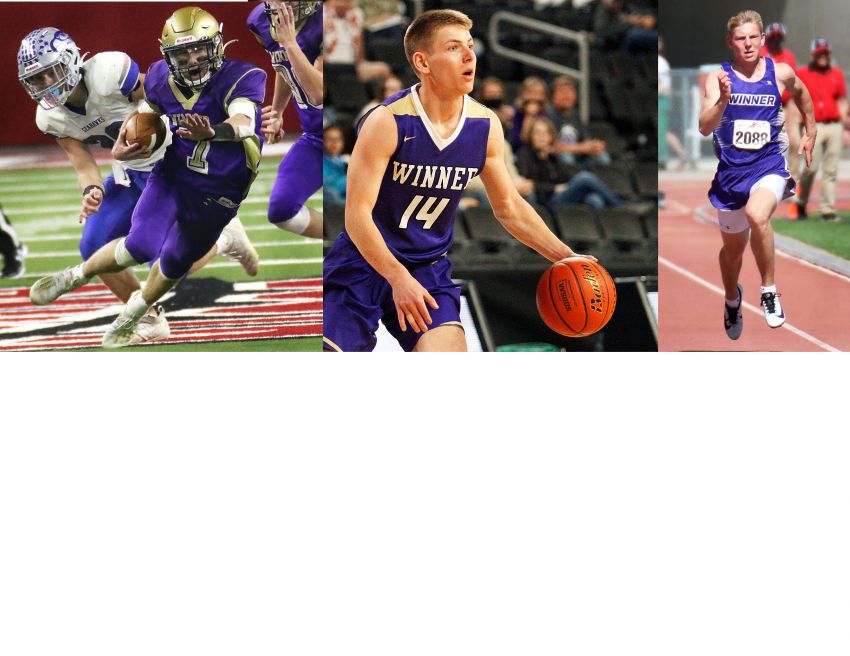 WINNER --- Brady Fritz and John Elway have a few things in common. Both wear No. 7 and both finished their football careers on top.
"It does have some roots with John Elway," Fritz said of the No. 7 he wears playing football. "My big brother has been a really big influence on me. All his sports teams and my sports teams. I just really looked up to him growing up and I felt that No. 7, I had to be it. It felt right."
Soon those memories for Fritz will be just that, memories. But as the senior three-sport athlete from Winner winds down his high school career, he took some time to sit down with 605sports.com's Rich Winter to reflect on his time as a Warrior.
"It's pretty serial considering since I've been running high school track since seventh grade," Fritz said. "When you come in you feel like you are going to have a long time and it flies by just like everyone says. It's been a great experience and it's been a lot of fun. Hopefully we can wrap it up on a high note."
Fritz's senior year has been nothing but high notes. It started in the fall when he help lead the Warriors to the 11B football championship and continued in the winter when he helped lead Winner to a spot in the Class A boys basketball tournament.
The success hasn't stopped for him this spring. Recently Fritz won the long jump at the Dakota Relays at Howard Wood Field in Sioux Falls. He also helped lead the boys 4x100 relay team to a third-place finish and placed eighth the 100 meters.
"I actually showed up and the mark that I've been jumping was way off," Fritz said of his long jump competition at the Dakota Relays. "So, in the prelims I was just trying to get a chunk where I could get close to the board and get to the finals. Then going into the finals, I was able to run my steps back and hit the board with my last jump and it ended up being pretty good.
Things ending up pretty good has been the motto for Fritz this year. In the fall, he capped off his senior season with 499 rushing yards on 68 carries and eight touchdowns, to go along with the 504 yards he threw --- completing 23 of 38 attempts and seven touchdowns. All the while helping lead the Warriors to a 11-0 record and avenge their loss in the 11B state title game a year earlier.
"It was awesome," Fritz said of the football season. "Football is a different aspect of things because it's pretty much all of our friends in my class because after football we all split up between wrestling and basketball.
In February, Fritz committed to play basketball at Dakota Wesleyan in Mitchell, telling the Mitchell Republic that basketball has always been his main thing and that he was looking forward to being able to focus on just one sport.
But before he headed to DWU, Fritz had some unfinished business to take care of with the Warriors, qualifying for the State A tournament in Sioux Falls.
It was a goal Winner was able to accomplish with the help of Fritz who averaged 25.6 points per game to help lead Winner to a 20-5 record.
"We knew we had a good group to make a run and I think halfway through the year we thought we had a really good chance at doing this," Fritz said. "It was crazy to make it to state. That was a goal of mine ever since I started going to state basketball tournaments.
"It was a great experience and a lot of fun, and those guys are going to be really good next year. So, I'm excited to watch them."
605sports.com Rich Winter contributed to this report