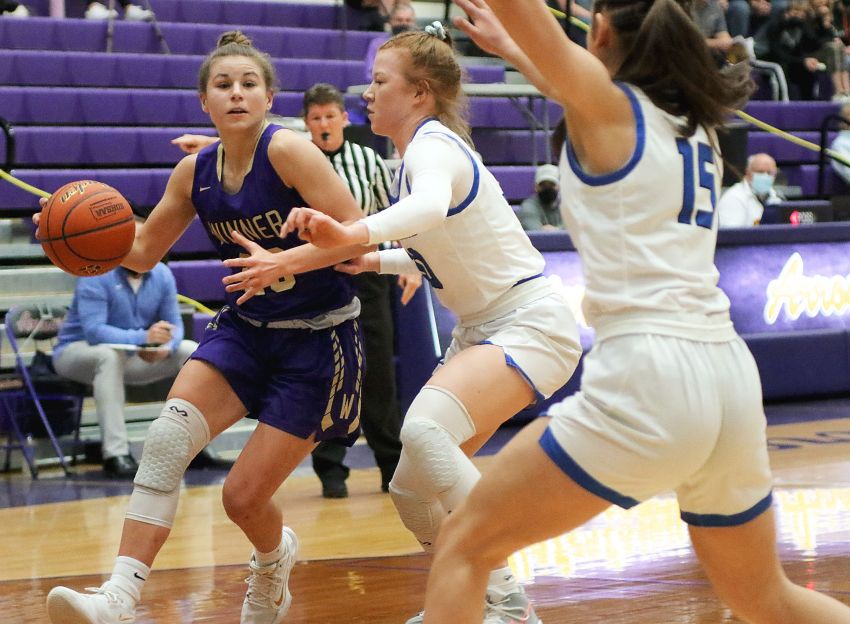 By Rodney Haas
605sports.com
WATERTOWN — All year long the top teams in Class A were Winner and St. Thomas More.
Both teams were at the top of the weekly polls and both were the top two teams going into the Class A state tournament.
So it was only fitting they would meet Saturday night right? Well, perhaps not like this.
After No. 4 seed Aberdeen Roncalli upset No. 1 St Thomas More and No. 3 Hamlin knocked off No. 2 Winner, the two met for third-place Saturday where Winner avenged an earlier loss with a 54-51 win.
Bella Swedlund led the Warriors (22-3) with 24 points while Maggie Lacompte had 11 points and Ellie Brozik added 10 points.
Haleigh Timmer led the Cavaliers (21-3) with 18 points and Reese Ross had 17 points.
Winner led 24-18 at halftime before St. Thomas More cut the lead to 33-32 at the end of the third quarter.
Earlier in the day Sioux Falls Christian picked up fifth place with a 51-48 win over Dakota Valley while McCook Central/Montrose earned seventh place honors with a 49-42 win over Belle Fourche.