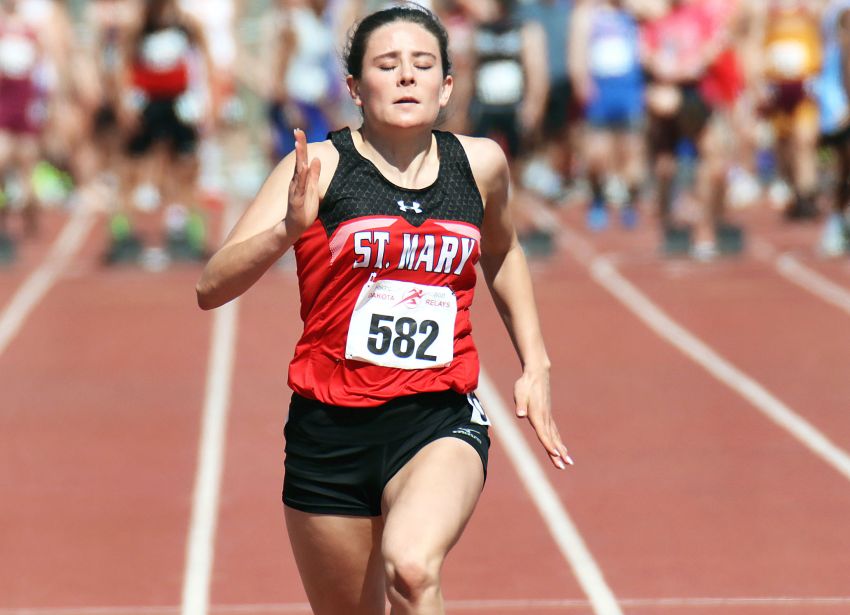 605sports.com
DELL RAPIDS --- When the COVID-19 pandemic canceled the track season last year, Dell Rapids St. Mary's Ella Heinitz made the best of a disappointing situation.
Heinitz, along with a friend used the situation to work out with Seth Boomsma of Boom Athletics of Sioux Falls to help
"He pays such attention to detail and he cares so much about his athletes," Heinitz recently told 605sports' Rich Winter. "I think that's what really sets his athletes apart from everyone else. Because he puts in the time and he helps you in so many ways."
The work has paid off for Heinitz who ranks near the top in the state in the 100 and 200. Heinitz's 12.28 she ran in the 100-meters at the Dakota Relays at Howard Wood Field is second in Class B next to White River's Caelyn Valandra-Prue, and is currently the fifth fastest 100 in the state.
Meanwhile her 200 time of 26.35 she set during the 200 special event at the Dakota Relays, is the fourth fastest time in Class B behind Valandra-Prue's 25.33, New Underwood's Cerington Jones' 25.82 and Colman-Egan's Josie Mousel's 26.10.
She credits her success to improving on how she starts her races and her mechanics.
"Before I was training with (Boomsma), I wasn't getting into them right," Heinitz said. "You have to have a good stance. You have to have your shoulders over your hands so you can get that forward motion so you can get out faster. That was something I really was keen on working the blocks was shooting out and that definitely helped improve my starts and my times."
During the Dakota Relays, Heinitz form was perfect. She kept pace with first place finisher Ellen Merkley of Sioux Falls Lincoln, who won the event with a time of 12.12.
"I knew I could stick with her and it would be a tough race," Heinitz said of Merkley.
As a freshman, Merkley currently holds the fastest 100 meters in the state when she ran a 11.98 at the Harrisburg Quad on April 6.
Meanwhile for Heinitz, who will be running track next year at Augustana in Sioux Falls, she is getting ready to put a bow on her high school career, but not without having some lasting memories.
One of those memories was being part of the exclusive club selected to run the 200-meter special event at the Dakota Relays.
There she finished seventh with her fastest time in the event, while Sioux City West's Holly Duax won the event with a time f 25.34.
"It was an amazing experience. That was one of my goals to be in the special 200," Heinitz said. "I was really nervous. But looking back it was an amazing experience, and I was so glad to have had the chance to participate because I know I was running against the best there. It was awesome."
605sport.com's Rich Winter contibuted to this story