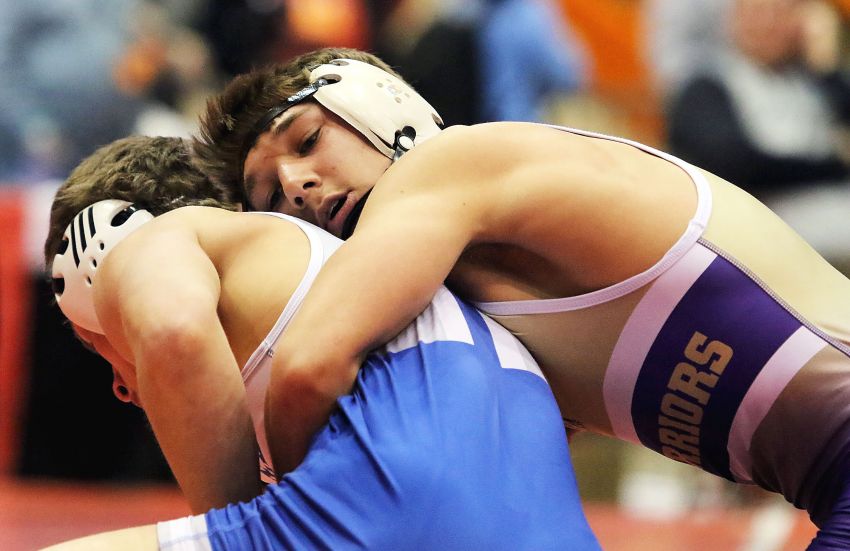 Winner's Kaden Keiser wrestles Elk Point-Jefferson's Skyler Swatek in the 145-pound semifinal Friday night at the Class B state wrestling tournament in Rapid City. Keiser advanced to the tile match by pinning Swatek in 1:55.
Photo by Rodney Haas
| | | |
| --- | --- | --- |
| | | |
By Rodney Haas
RAPID CITY — Being a four-time champion is an exclusive club in which only 16 wrestlers in South Dakota have achieved.
It's a club Winner's Kaden Keiser is hoping to become the latest member of.
After Saturday's 13-6 decision win over Lane Miller of Howard in the 145-pound final, Keiser is now at the doorstep of this elite club with his third state title — matching his previous titles at (120) and (126).
"It's not any different," Keiser said of his third title, after finishing his junior season 40-0. "Obviously it's different from the first one, but I just wanted to go out and get it and I still have one more to go."
Last year Canton's Kellyn March became the latest member of the club in Class B when he won the 138-title. Meanwhile Chamberlain's Nash Hutmacher was the latest in Class A with his fourth-straight title at 285.
"My goal was originally to be a five-timer (state champion) but I lost my eighth grade year."
Four wrestlers in state history have achieved the status of being a five-time champion, while Freeman's Kirk Wallman and Webster's Logan Storley are the only two six-time champions. Wallman's run of titles took place from 1984-89, while Storley's run was from 2006-11.
"My goal is to not only go down as the best in Winner history, but maybe the best ever in South Dakota and that's what I'm working for," Keiser said.
Keiser defeated Mobridge-Pollock's Kamron Pearlman with 16-1 tech fall in the opening round and then took care of Burke-Gregory's Jordan Vosika with an 8-3 decision.
Keiser advanced to the title match by pinning Elk Point-Jefferson's Skyler Swatek in 1:55, setting a battle of undefeated wrestlers for the final match of the night.
"He's a tough opponent," Keiser said of Miller in the title match. "He's conditioned well but I feel like I out wrestled him."
As a team, the Warriors finished second with 188.5 team points, behind champion Canton's 216. Winner had 10 wrestlers place including three second placers, one third placer, two fifth placers, two sixth placers and one seventh placer.
In addition to Keiser's individual title, Sam Kruger won the 170 title with a 15-0 tech fall victory over Luke Richardson to finish his season 38-0.
Crazy Horse athlete Trey Lamont knocks down a 3-pointer to send Friday's game with Marty to OT
Jackson Newman lifts Platte-Geddes over Gregory in a thriller
Tash Lunday, first quarter buzzer beater as Flier big man scares triple double
DeSmet Bulldogs STEAL a victory with a pair of final second THREES!