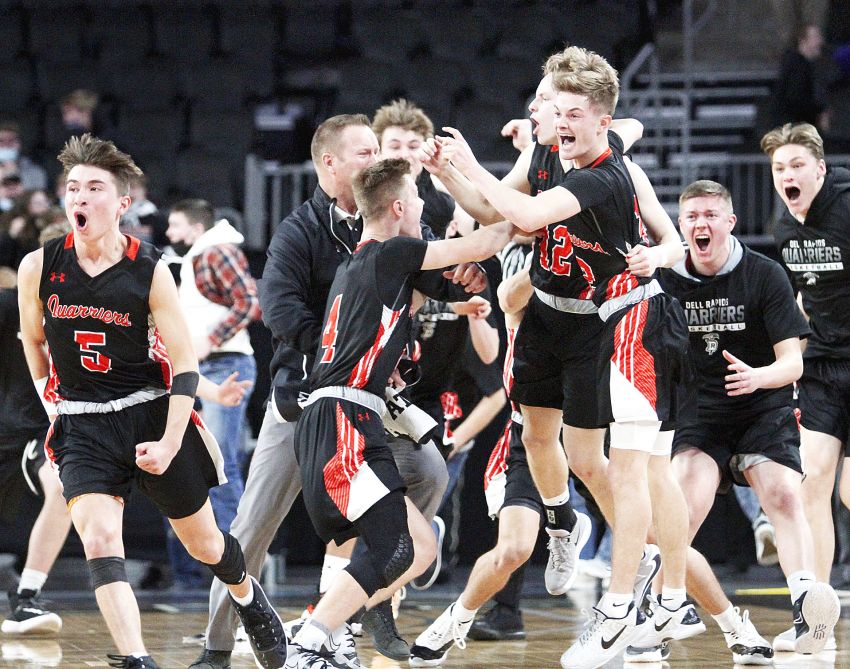 By Rodney Haas
605sports
SIOUX FALLS — Entering Thursday's match up with No. 1 seed Vermillion, Dell Rapids coach Jason Fersdahl's message to his team was simple believe.
Believe that as a No. 8 seed, the Quarriers have just as much of a chance as the top seeded Tanagers to win the Class A title.
It was a message that wasn't lost on his team as Dell Rapids kept Vermillion on the ropes until the Tanagers started to mount a come back late in the fourth quarter.
Vermillion took the lead 52-50 with 11 seconds left and appeared to have escaped the upset until Landon Ruesink took matters in his own hands.
From the corner in front of his own bench, Ruesink released his shot just before the final second ticked away and found nothing but net — giving the No. 8 seed Quarriers a 53-52 upset win.
"Probably the biggest thing coming into the game like this is believing," Fersdahl said. "Ever since we came out of the SoDak 16 our guys never wavered and they bought in what we wanted to do defensively."
Dell Rapids is making its third straight tournament appearance, while Vermillion is making its first tournament appearance in 32 years.
"Going into the this game we were playing a familiar opponent in Vermillion," Fersdahl said. "They had an amazing season, they are senior led and coach (Jay) Drake has done and amazing job with those guys."
Vermillion entered the tournament undefeated, only to suffer its first loss of the season in the opening round of the tournament.
Dell Rapids took a 19-11 lead after the first quarter and held a 32-24 lead halftime. However, in the second half, Vermillion (22-1) showed why they were the No. 1 seed — cutting the lead in the third by outscoring Dell Rapids 12-9 as the Quarriers held onto a 41-31 advantage heading into the final period.
"We came into this game saying that it's going to take 32 minutes and maybe longer and it almost took longer and it took all 32 minutes left," Fersdahl said. "Our guys came out and played with tremendous heart. Vermillion is very physical and they rebound well."
Connor Rentz and Brayden Pankonen led Dell Rapids (17-6) with 15 points each, while Colin Rentz had 10 points. Ruesink ended the afternoon with seven points, but three of those seven proved to be the biggest points of the season.
Vermillion was led by Dillon Gestring with 16 points while Jakob Dobney added 13 points.
Dell Rapids will play the No. 4 seed Sioux Falls Christian after the Chargers took care of St. Thomas More 58-47.
"We knew the type of challenge that was ahead of us," Fersdahl said. "The first half we played really good defense and we turned the ball over too much on offence but we were able to withstand that on defense. Hats on to Vermillion for an outstanding season, they have two more games and they are going to do well."