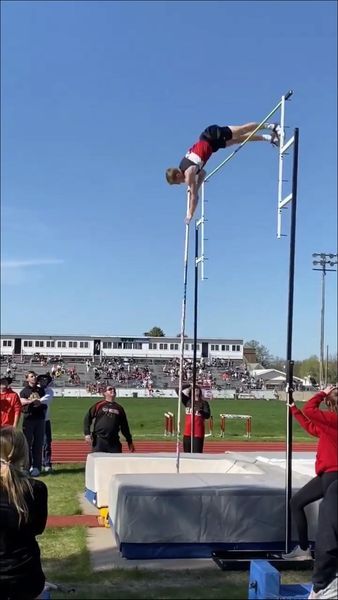 WAGNER --- Perhaps the holy grail of pole vaulting in South Dakota is trying to clear 15 feet.
It's a mission that Wagner's Jaden Peters has been on since he cleared 12 foot as an eighth grader and cleared 14 feet 3 inches as a sophomore.
"It's unfortunate that we missed his junior season," Jaden's dad Chad said of last year's track season being canceled due to COVID-19. "Our goal for that season was to get over 15 feet and get into the top 10 all time in South Dakota. But that wasn't to be and now we are going to have fun and make the best of it."
This year Jaden has picked up where he left off, opening the season with a 14-9 mark and then in April he cleared 15 feet at the Corn Palace relays in Mitchell. He did it again earlier this month at the Dakota Relays at Howard Wood Field. There, he won the competition by setting a personal best with a vault of 15-6 and took three cracks at the all-time state record of 16-1 set by Rapid City Stevens' Andy Henrichsen in 1995.
"The main thing I've been working on, and the main thing that has been my problem over the last few years is my top end," Jaden told 605sports.com's Rich Winter. "Getting rocked back after the plant. Just getting rocked back and getting straight up and down with the pole. Getting inverted and getting that pole turn off is what I've been working on."
Whatever he's been doing, it seems to be working for him. After he failed to break the record on the big stage of Howard Wood Field, Jaden never gave up on hitting that mark. Less than a week later at the Missouri Valley Conference meet, he took his best shot at Henrichsen's record --- this time clearing the bar at 16 feet 1.5 inches for a new record.
"I'm thinking a lot about 15 feet because 15-2 is actually the sweet spot for me," Jaden told Winter earlier this year. "That's a wall for me right now, but I definitely think I can get over it on a good day."
605sports' Rich Winter contrubuted to this story