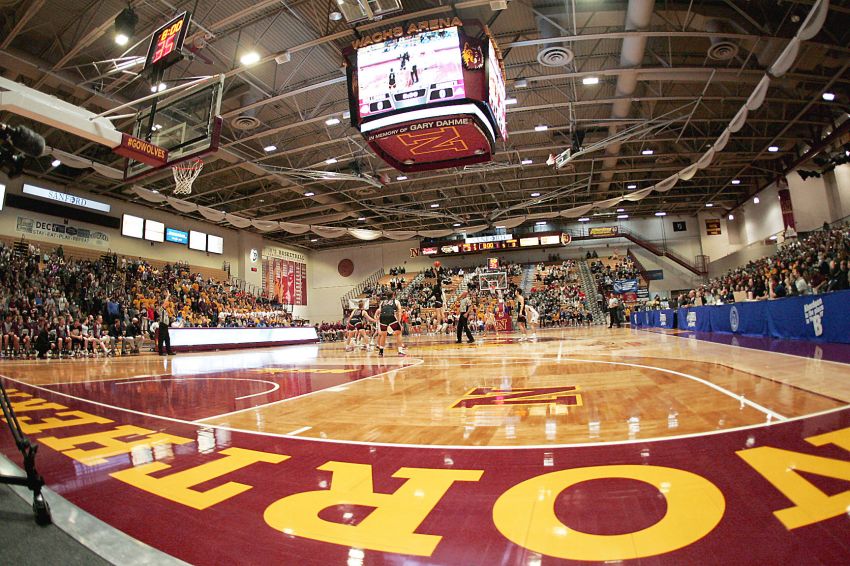 By Rodney Haas
605sports.com
SIOUX FALLS — When Landon Ruesink nailed a 3-pointer with no time left in Dell Rapids' upset victory over top seed Vermillion in the Class A tournament; it was a moment that hoops fans in South Dakota have long been waiting for.
It was a shot that was heard around the state.
Cinderella runs, upsets, and No. 1 seeds being knocked out in opening rounds of state tournament hoops games are a fabric of South Dakota in March.
It's something that South Dakotans have come to expect happening each spring, the same way as the grass turning green, late spring snowstorms and calving season.
But when you thumb through the programs of both the state girls and boys basketball tournaments the past two weeks, the results of 2020 are spelled out in a five letter word followed by a dash and a number.
COVID-19.
"It's great to have the tournament period," Dell Rapids coach Jason Fersdahl said following his team's upset win. "The COVID thing is out of our control. It was disappointing to miss out on that tournament last year. We had a good group of seniors there. We wanted a shot last year and didn't get it."
To understand the significance of Ruesink's shot, all one has to do is go back to March 11, 2020, the day sports and the rest of the world stood still.
It all started that evening when Utah Jazz center Rudy Gobert tested positive for the coronavirus, which at the time was an unknown virus that many health experts didn't know much about.
Soon after Gobert tested positive, the NBA announced the suspension of its regular season and the next day Major League Baseball followed suit with the cancellation of spring training and delayed the start of the regular season. The NHL followed by suspending its season and the NCAA did the unprecedented thing of not only canceling its men's and women's basketball tournaments, but also canceling all of its spring sports.
In the days ahead the cancellations and shutdowns extended to all parts of life, bars and restaurants and businesses where shutdown across the country. School buildings were closed and students and teachers were forced to teach and learn through a new form called e-learning.
Nationally, the hardest hit was high school sports as seniors saw their high school playing days come to an abrupt end with no closure, no defining moment and no chance at a state championship, and unlike college, no extra year of eligibility.
In South Dakota, the COVID concerns caused the cancellation of all its basketball tournaments, leaving many teams and players asking the what if question.
What if we could have played the tournament with this group? What would have happened?
"The kids got cheated but so did we," said Genevieve DeMent-Osborn, an official who worked the Class A championship game in Watertown earlier this month. "You work all year long and then you get that email from the state that says congratulations you have been selected to work the state tournament. You are like 'Oh wow. This is like the capstone for the season.'
"I feel bad for the seniors, the kids and the coaches."
The cancellation of last year's tournaments left 48 basketball teams across the state's three-classes without a chance to end long championship droughts, or for some, the opportunity to continue to build on a dynasty. Then there were those teams making their first tournament appearance ever or playing in the big dance for the first time in 20 years.
Faulkton Area was in the Class B girls basketball tournament for the first time in school history, while Flandreau, Hill City and Howard were back in the tournament since the mid 1990s.
"Hill City girls hasn't been to the state tournament in years. They finally get a chance from these small rural communities and it doesn't happen," said David Rogers, an official from Spearfish working the Class A girls championship game between Hamlin and Aberdeen Roncalli. "The significance of (officiating) a championship game. Yeah it's significant because at the end of the day someone is going to be a state champion, but for some of the seniors, it's their last time playing a basketball game."
While some teams were robbed of the chance and perhaps may end up waiting another 20 years before qualifying for another tournament, others used it as motivation for the upcoming season.
Aberdeen Roncalli qualified for its fourth tournament overall and its third straight when COVID wiped out its tournament. This year, Roncalli entered the Class A tourney with a 20-2 record and the No. 4 seed.
"We went to the state tournament last year and didn't get a chance to play in it," Roncalli coach Derek Larson said. "I think we were going to play St. Thomas More in the first round last year and didn't get a chance to play."
The Cavaliers finally got their chance against St. Thomas More in the Class A semifinals where junior Olivia Hanson sank a pair of clutch free-throws with one second left to give Aberdeen Roncalli an upset win over the top seed. The Cavaliers then continued the magic the next day with a win over Hamlin to give the school its first girls basketball state championship.
However, throughout the run to the title, the Cavaliers didn't forget their former teammates that didn't get a chance to experience the joy of cutting down the nets following a state title.
"We had four really good seniors last year, four really good team leaders that didn't get a chance to play," Larson said. "They are all sitting in the front row (this year) and we are able to do this for them. I'm happy for the kids to be able to participate in the state tournament."
Meanwhile the storylines were the same for the boys as they were for the girls. Last year, Canistota was making its seventh tournament appearance and looking for its first state title in 62 years. This year, the Hawks entered the Class B tournament as the No. 2 seed but were upset by No. 7 seed Aberdeen Christian, which was playing in its first state tournament after qualifying for last year's but didn't get a chance to play.
The Knights ended up proving to be a real Cinderella — playing in three state tournament games ever and going 2-1 before falling to champions De Smet, which was on a mission of its own.
The Bulldogs had to wait two years to finally get a chance to cut down the nets in Aberdeen following a heartbreaking championship loss to Clark-Willow Lake in 2019.
Then there are the stories of Connor Libis of Dell Rapids St. Mary's and Matthew Mors of Yankton. The two seniors finished their high school careers as No. 3 and No. 4 among the state's all-time scoring leaders. Libis, who won the Class B Spirit of Su award, finished his playing career No. 3 with 2,731 points while Mors was No. 4 with 2,707 points.
As for Mors, the Wisconsin commit finished his Bucks career with four tournaments but only one title in 2018. This year Yankton finished third, but everyone will always wonder if COVID robbed Mors and the Bucks a second state championship.
"We have approached this season that everything is a blessing and playing together with a tremendous amount of joy and just playing together," Fersdahl said. "One of the classes I teach is high school government so that is seniors and you had basketball and sports, but you had kids missing out on graduation and prom and all those memories that make high school special.
"It's good that they are all back now."