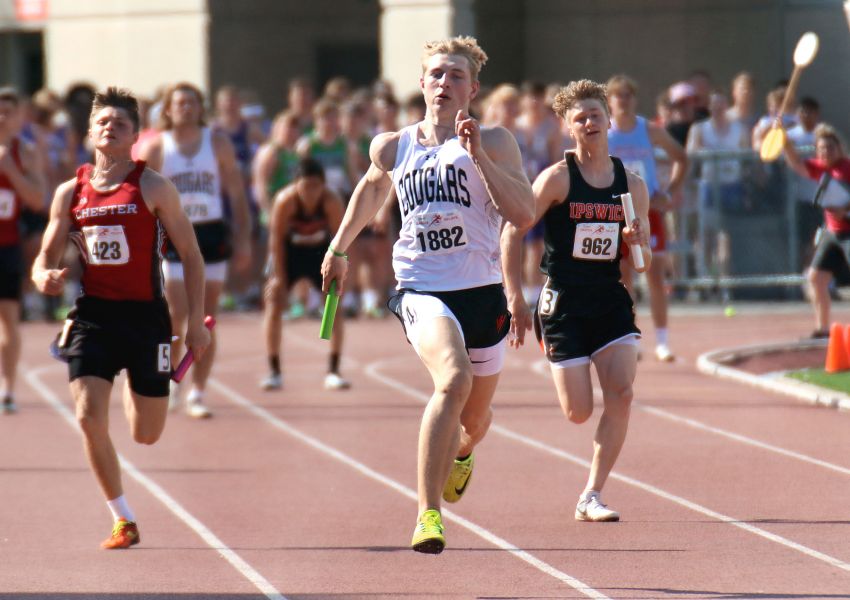 By Rodney Haas
605 Sports.com
SIOUX FALLS — If there were any doubts as to who the favorites in the Class B 100, 200 and 400 relays, Viborg-Hurly silenced any doubters this past weekend.
The Cougars relay teams consisting of Angel Johnson, George Johnson, Carter Gust and Chase Mason set Howard Wood Dakota Relays meet records in the 4x100 with a time of 43.35 and set another meet record in the 4x200 with a time of 1:29.68. The Cougars also took first in the 4x400 with a time of 3:33.22.
Angel Johnson placed fourth in the 100 meters with a time of 10.99.
Meanwhile White River's Caelyn Valandra Prue rebounded from her fifth place finish in the girls 200 meter special event on Friday win capture the 400 meters with a time of 56.27 —besting second place Cerington Jones of New Underwood by a hundredth of a second.
Sioux City West's Holly Duax won Friday's girls 200 meters special event with a time of 25.34 followed by Sioux Falls Lincoln's Ellen Merkley with a time of 25.42.
In Friday's other special event, the boys 800 meters, Sean Korsmo of Bismarck took top honors with a time 1:55.25 — besting Sioux Falls Christian's Isaac Davelaar's 1:55.48.
Winner's Brady Fritz took first in the long jump and helped lead the boys 4x100 team to a third place finish with a time of 44.90.
Fritz placed eighth in the 100 meters with a time of 11.09, while Legacy (Bismarck, ND) set the pace with a time of 10.59.
Sioux Falls Lincoln's Ellen Merkley was the fastest girl this weekend with a time of 12.12 seconds in the girls 100 meters, besting Dell Rapids St. Mary's Ella Heinitz's time of 12.28.