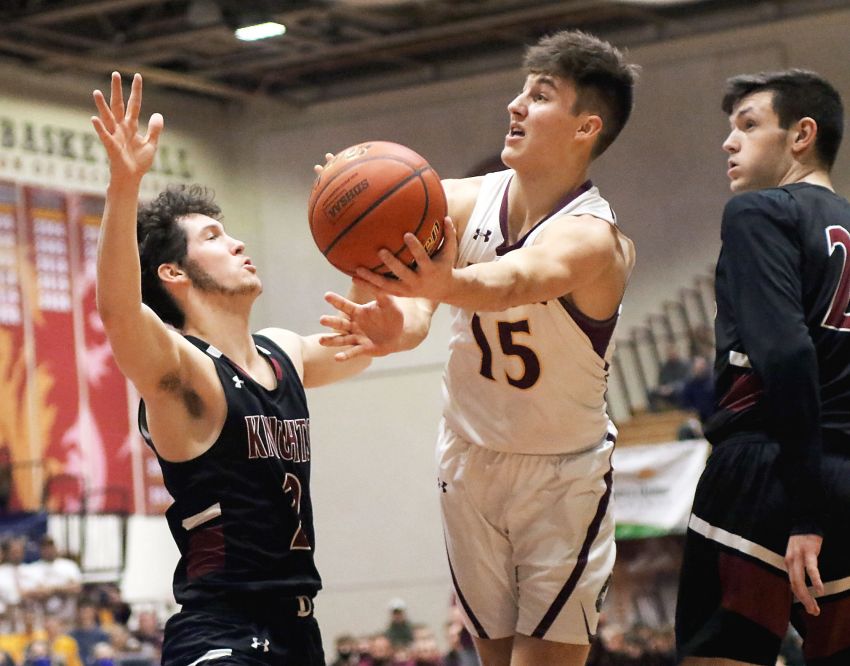 By Rodney Haas
605sports.com
ABERDEEN — It was a two-year wait for De Smet to get a chance to play for the Class B title again.
But the wait was well worth it.
The top seeded Bulldogs jumped out of the gates to a 10-0 lead and cruised from there — ending the magical run seventh seed Aberdeen Christian was on in a 59-43 win — giving De Smet its first championship since winning the Class A title in 1999.
"It's been a long way to get to this year and the season," De Smet coach Jeff Gruenhagen said. "Two years ago and being on the court and that heartbreak and losing to a team that we knew was better."
It was nearly 24 months ago when De Smet found itself in a similar position as they found themselves on Saturday night, the only difference was the Bulldogs were on the other end of a 49-41 loss to Clark-Willow Lake.
Bound and determined, the Bulldogs battled their way through the 2019-20 season — qualifying for the state tourney again and looking to avenge its championship loss from a year earlier. But then everything came crashing down.
"To see the joy on their faces, it really drove those guys all last season," Gruenhagen said. "Then that day in Sturgis and finding out that we are probably not playing was a huge deflation. For our three seniors that we lost it was a terrible feeling."
Kalen Garry led the Bulldogs with 23 points while Tory Holland had 10 points.
Ethan Russell led the Knights with 19 points while Jett Becker added 11 points.
After qualifying for its first state tournament in last year's COVID wiped out tourney, the Knights were finally able to play their first state tournament games and boy did they impress.
Aberdeen Christian upset No. 2 seed Canistota on Thursday and continued the magical run on Friday with a 60-45 win over No. 6 Dell Rapids St. Mary's to advance to the championship game.
"We saw them (Aberdeen Christian) a couple of times down at the Corn Palace," Gruenhagen said. "I think they lost a heart breaker to Howard."
De Smet took a 12-9 lead after the first quarter and led 33-18 at halftime. The Bulldogs extended its lead to 41-29 after the third quarter.
"This feels great," Gruenhagen said of the championship. "This is what we have been working for. It's a huge crowd and it was fun basketball. We knew from last year that we were going to have a special team. We went through and played some big games early. We played Viborg, we played Dell St Mary's at home.
"Sioux Valley, we went there and lost close game and that kind of drove us to where if we don't take care of our business, we might get beat. I think we played the top seven or eight teams in Class B and that just helped us believe that we can get all the way here."