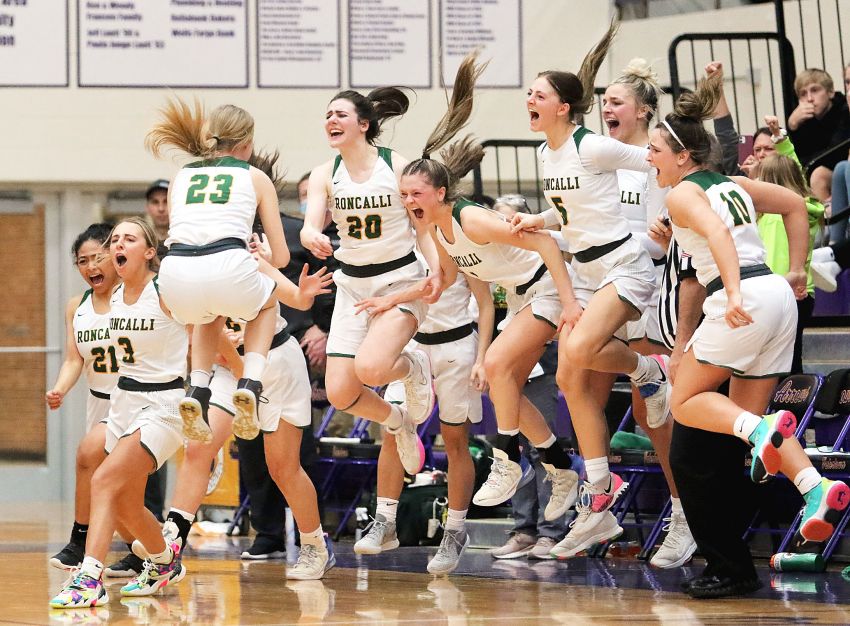 By Rodney Haas
606sports.com
WATERTOWN — Throughout Aberdeen Roncalli's state tournament run, there has been a group of four former players watching front and center.
The former players are last year's seniors; a group of players who were denied a chance to play for a state championship after the tournament was canceled because of the COVID-19 pandemic.
Although no longer part of the team or school, the players were there for Thursday's 45-34 win over Sioux Falls Christian and Friday's upset victory over No. 1 seed St. Thomas More.
And they were there again on Saturday night — counting down the final seconds in Saturday's Class A title game along with their former teammates — 3… 2….1… until the clock read 0:00 and the Cavaliers had their first ever state championship — a 48-31 victory over Hamlin.
"Absolutely!" Aberdeen Roncalli coach Derek Larson said of the former players. "They didn't get a chance to do this last year. Which was unfortunate. They were a huge part of this also. They showed our leaders this year how to lead."
Although officially they won't be part of the team, unofficially, however, is another story.
"It was unfinished business for them. They were all here tonight." Larson said.
Morgan Fiedler led Roncalli with 15 points, while Madelyn Bragg had 12 points and Olivia Hanson added 10 points.
Kami Wadsworth led Hamlin (22-3) with 13 points.
The Cavaliers (23-2) jumped out to a 12-7 lead after the first quarter and held a 27-18 lead at halftime. Roncalli extended the lead to 39-27 heading into the fourth quarter, as by that time the ending was already determined.
"I'm really proud of the kids getting it done the way they did," Larson said. "They really handled themselves well."
After qualifying for the tournament for the first time in school history in 2013, the Cavaliers returned in 2018 and have been back every year since. However, Larson credits a 54-38 loss to West Central late in the season as the turning point.
"I thought we played much better after that," he said of the loss, which resulted in the Cavaliers proceeding to win the final eight games including Saturday's championship game. "I think we got a lot better down the stretch of the year. We played a lot of close games during the regular season. We lost to Hamlin earlier in the year so it was nice to get this one."
The good news for Larson, he only loses one senior in Elissa Hammrich and returns six juniors, three sophomores, a freshman and three eighth graders.
"I'm happy for the school. I'm happy for all the kids that got to be a part of this," Larson said. "This is the fourth state tournament that we made in a row, hopefully these young kids will see this and strive for the same thing."