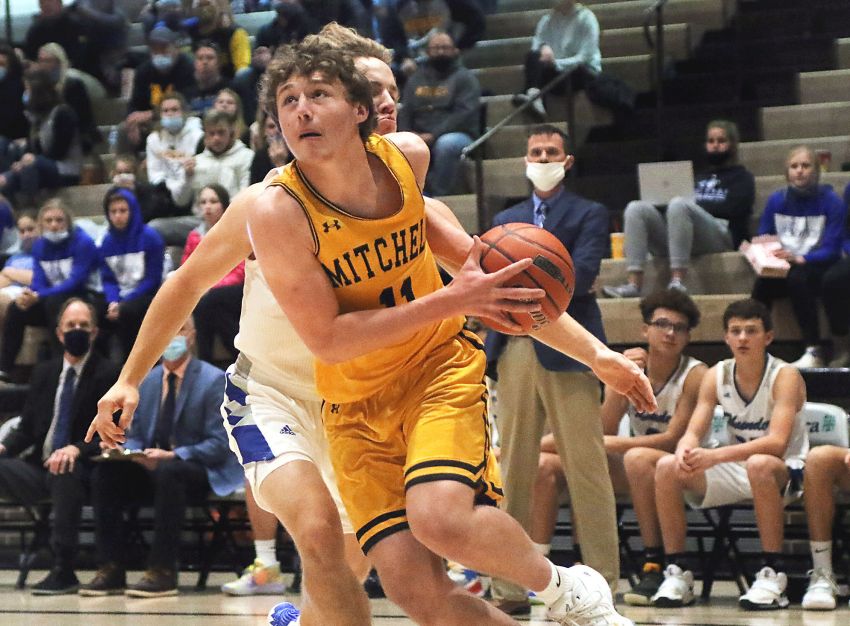 Staff Reports
RAPID CITY — Back in the State AA tournament for the first time since legendary coach Gary Munsen was at the helm, Mitchell watched as a fast start soon evaporated in a 50-46 loss to No. 2 seed Yankton on Thursday.
Dylan Prouty led the Bucks with 25 points while Wisconsin commit Matthew Mors was held to 17 points.
Zane Alm led the Kernels, who were making their first appearance in the tournament since a runner-up finish in 2012 with 12 points and Gavyn Degen added 10 points.
Mitchell took a 12-1 lead after the first quarter but Yankton comeback to take a 23-22 lead at halftime and extended the lead to 35-31 after three quarters.
Yankton will play No. 3 seed Sioux Falls Roosevelt after the Roughriders defeated Brandon Valley 64-47.
Tyler Feldkamp led Roosevelt with 16 points while Dawson Johnson had 18 points to lead Brandon Valley.
Earlier in the day, top seed Sioux Falls Washington escaped past No. 9 seed Aberdeen Central 56-53.
Joe Uttecht led the Warriors with 14 points while Aberdeen Central was led by Sam Rohlfs with 20 points and Alec Voegele added 17 points.
Sioux Falls Washington will play Sioux Falls O'Gorman after the Knights defeated Harrisburg 58-39.
Kade Moffitt led O'Gorman with 14 points while Joe Lynch had 13 points. Harrisburg was led by Blaze Lubbers with 11 points and Conner Geddes added 10 points.