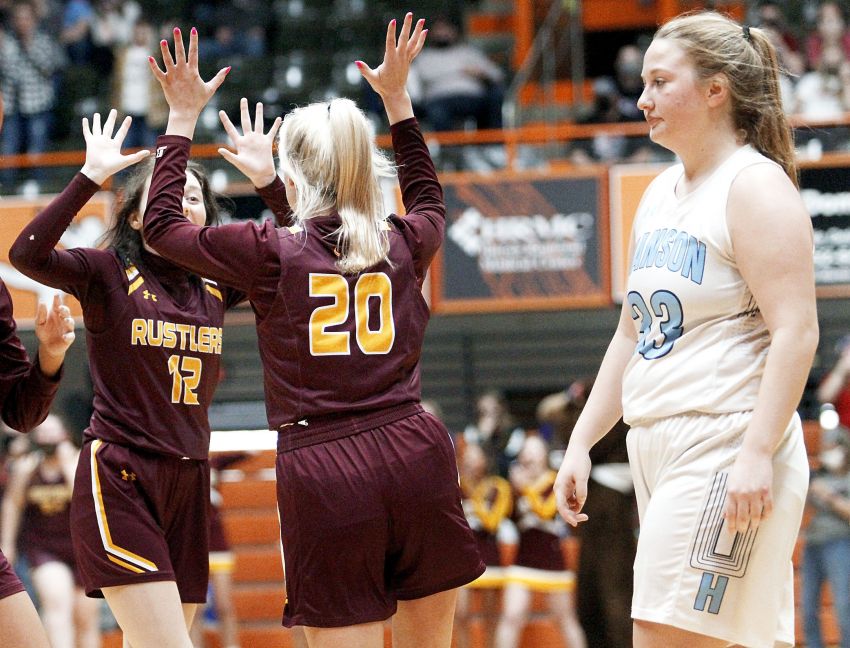 By Rodney Haas
605sports.com
HURON — Ethan overcame a 33-15 halftime deficit to comeback and knock off Hanson in the opening round of the Class B girls' basketball tournament Thursday afternoon.
Maddy Bartscher led the Rustlers with 14 points while Hannah Barscher added 13 points for the No 5 seed Ethan.
Meanwhile Mekiah Campbell led the No. 4 seed Hanson with 14 points and Annalyse Weber added 13 points.
The Beavers (19-3) jumped out to a 16-4 lead after the first quarter and outscored the Rustlers (20-3) 17-14 in the second quarter and appeared to have the game in the bag.
However, Ethan came out of the break and outscored Hanson 19-8 in the third quarter to cut the lead to 41-34 heading into the fourth and continued with the pace in the next quarter — taking its first lead with about 2 minutes left and sealing the victory with a pair of free-throws with 8 seconds left on the clock.
Ethan will play in Friday's semifinals against top-seed Castlewood, which defeated Waverly-South shore 61-55.
Alayna Benike led Warriors (20-0) with 24 points while Mackenzie Everson added 17 points. Emily Kranz led Waverly-South Shore with 19 points and Lydia Schroeder with 17 points.